Suggestions for Cooking with Leeks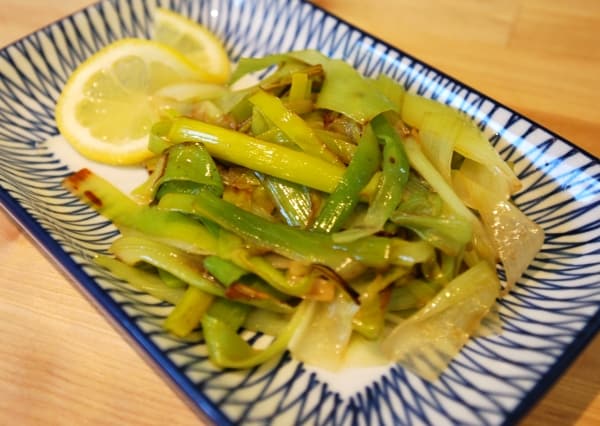 Leeks have a funny-sounding name and most people don't know a thing about them, except that they look as funny as their name sounds. But the truth of the matter is, the leek is a delicious vegetable that has a variety of uses.
If you have ever cooked with an onion, then you can certainly start cooking with leeks. Leeks are a wonderful substitute for any member of the onion family if you want something with only a mild onion taste. My favorite soup recipe is a potato and leek soup; it's absolutely delicious and it's amazingly simple to make, which I'm sure will make it a favorite in your book, too.
To make a potato and leek soup, you'll need a few potatoes and two leek sheaths. You might also want to add a couple of cloves of garlic, but the most important part of this soup is really the leeks. You might want to choose potatoes that are great for soups, such as golden potatoes. But, if you don't have these on hand and you have russets, feel free to use them. First, you have to cut up your ingredients. Chop the leeks as you would if you were chopping celery. Put the leeks in a colander and wash thoroughly, since this vegetable grows in the dirt. Do the same to your potatoes. In a big pot, heat a couple of pats of butter. Add your garlic, if you're adding any. When the garlic is aromatic, add the onions and leeks. Sautee until the leeks are softened. Now, add enough water to fill the pot a little less than half of the way. You want enough water to cover the potatoes, and then some extra. Allow to boil. Once it has boiled, turn the heat off, and let stand to cool a bit so you can blend the ingredients together (either using a hand blender or a tabletop blender). Garnish with chives, cream, or parsley.
For a twist on your omelets, try adding leeks instead of onions. For a more sophisticated flavor to your pot roasts, barbeques, etc., try adding leeks. They impart a unique flavor that's somewhat onion-y but has something more. Leek and onion bisque is also a wonderful dish to try if you are having company over. It's made with heavy cream, cream cheese, white wine, sour cream, onions, and leeks. It is prepared in much the same way as the potato and leek soup, but you'll be adding more dairy products.
Leek tarts, leek quiches, grilled and creamed leek all should also be part of your culinary repertoire. You'll be able to surprise everybody with a type of vegetable that's not often tasted! So, try some leeks and introduce this lesser-known member of the onion family into your home!
Source:
Image Credit