Recipes Savory Baked Beans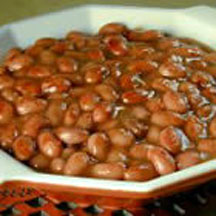 Here is an easy stove top recipe that tastes baked. My husband and I are avid barbecue fans, so I've been experimenting for a long time with this recipe until I perfected it. The recipe feeds 2-3 people, so double the recipe accordingly.
One can of Van Camp's pork and beans, juice drained
Worcestershire sauce
KC Masterpiece original flavor barbecue sauce
Soy sauce
Lawry's seasoned salt
Salt
Pepper
Garlic powder
Koop's horseradish mustard
Brown sugar
Diced 1/2 yellow onion
Corn starch to thicken (optional)
Scoop the beans into a medium sauce pan, and turn the burner onto medium. Add a few shakes each of Worcestershire and soy sauce. Add about one quarter cup of the barbecue sauce. Use salt, pepper, and Lawry's to your taste. Add about 1 or 2 teaspoons of garlic powder. Add about a quarter of a cup of brown sugar. Add 1 tablespoon of Koop's mustard. Add the diced half of the onion. Bring to a slow simmer. If the beans seem too runny, or if you just want to thicken them up a bit, you can add some corn starch until you have your desired consistency.
This recipe is pretty flexible, sometimes I even like to add a little bit of crushed red pepper. All of the measurements are approximations because I just dump things in as I go. But I cannot tell you how many times people ask me to write this recipe down for them. Enjoy these great beans at your next barbecue!
Source:
Image Credit