Recipes Pasta with Chicken and Mushroom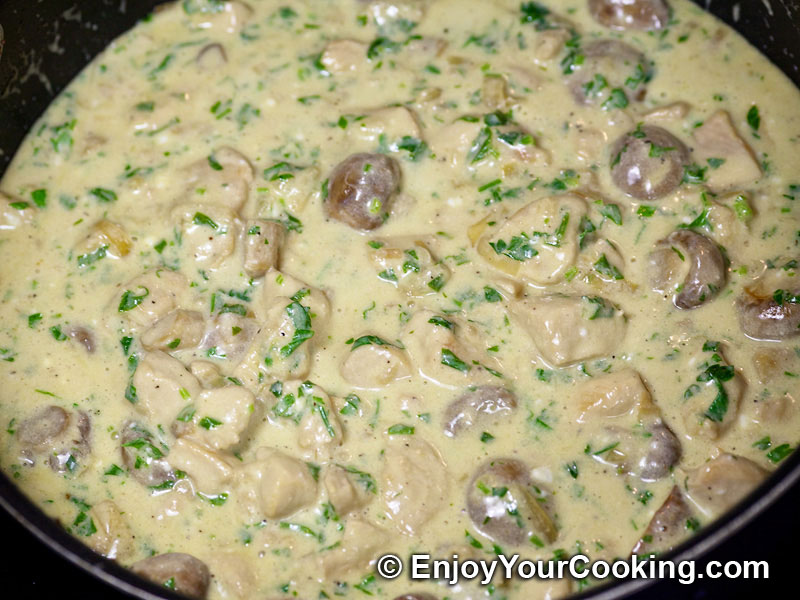 This is a family favourite, which is extremely easy to make, very tasty and only takes a few moments to cook so is perfect for any wife or mother (husband or father for that matter ) to make when time is tight and a hearty meal is needed. I have written the recipe to serve two so if you are wanting to feed four, just double the amount of ingredients. This recipe can be served at any time of year and tastes wonderful when combined with a crisp green salad, hunk of bread and a glass of dry white wine. This recipe also works very well if you substitute the chicken breasts with smoked bacon or if you swap the mushrooms with canned or frozen corn. Or you could add a splash of dry white wine to the sauce. There are many different combinations of ingredients to try.
You will need
2 tbsp of Olive oil
8oz Dried Pasta,
1 large onion
2 skinless chicken breasts
6 closed cup mushrooms
4 cloves of garlic
7 floz single cream or Elmlea
Half pint of vegetable stock
Tbsp of mixed herbs.
Take a large frying pan and heat the oil gently on a medium heat. Then roughly chop the onion and mushrooms into thick slices, then add to the pan cooking gently until the onions become clear.
Take the chicken breasts and dice into cubes , then add to the onion and mushrooms and cook until the diced chicken has browned. Take the pan off the heat.
Next bring a large pan of salted water to the boil and add the pasta . Allow to simmer for approximately ten minutes.
As the pasta is simmering , return the frying pan to the stove and add the single cream and vegetable stock to the pan whist stirring regularly. Turn down the heat and allow sauce to reduce gently. Whilst the sauce is reducing, roughly chop the cloves of garlic and then a couple of minutes before the sauce is ready , add the garlic. This ensures that you retain a strong , garlic flavour without any bitterness. Lastly add the herbs and season to taste with salt and ground ,black pepper.
Once the pasta is cooked, drain away the water and add to the sauce . Stir to coat the pasta evenly with sauce and you are ready to serve. Happy Eating.
Source:
Image Credit