Recipes Beef Stew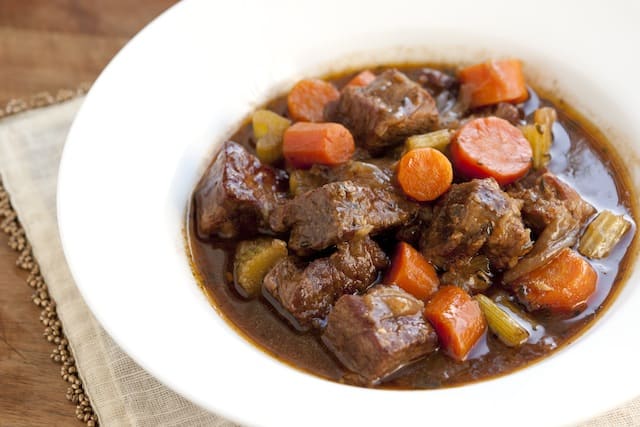 This time, it's beef stew with….red wine! Yum yum! The beef stew is sure Deli-cious, but do not eat beef stew when you have eye infection or any wounds as beef makes wounds even worse! If you don't have any thing wrong with your body, cook up this delicacy!
Ingredients
1-2 cups flour
2 pounds beef, cubed
1/2 cup butter or olive oil
2 cups red wine, (merlot is best)
5 cups prepared beef buillion or beef stock
5 carrots, thickly sliced, washed, pared
7 stalks celery, sliced
2 medium onions, diced
5 cloves garlic, minced
5 medium potatoes, cubed
2 bay leaves
a pinch of paprika
1 tablespoon parsley, minced
pepper, to taste
Method
In a large frying pan, heat 1/2 the butter or olive oil and saut the carrots, celery, onion, potatoes, and garlic until slightly browned. Set aside.
Combine flour, paprika, parsley, and some pepper in a shallow bowl, and roll the beef in it until well coated on all sides. Melt remaining butter or pour oil into in a large stew pot, and then add meat.
Saut the meat until well browned. Add the previously prepared vegetables and saut for about two minutes with the beef in the stew pot.
Add the wine, and saut another three or four minutes.
While the pot is hot, pour in the prepared bouillon and the bay Leaves and allow to simmer covered for about 2-5 hours. After such time the vegetables and beef should be very tender.
At this point remove the lid, sift in any additional flour required to thicken to desired consistency (use fresh flour – not from bowl), and allow the liquid to simmer 30 minutes or until ready.
One may add pepper and salt to taste, and if the carrots and wine were of a sweeter nature, then it is probably a good idea to add a splash or two of lemon juice for contrast.
Enjoy, Folks!
Source:
Image Credit